LONG-LASTING PEEL & STICK REUSABLE ADHESIVE FRAMES
Reusable 100's of times
Won't cause damage
Easy to use
Clean Up Your Space!
NEW - 16-Piece Basic Starter Pack
Regular price
$ 64.99 USD
Regular price
$ 76.96 USD
Sale price
$ 64.99 USD
Unit price
per
Sale
Sold out
Get Started with a Sampling of Products
Just $64.99 - $81.96 if purchased separately
Imagine no more pieces of tacky-looking paper taped to walls. Our patented self-stick sign holders make it quick and simple to maintain a professional appearance with minimal cost and effort.
The package includes:
5 - 8.5 x 11 Frames for Walls (drywall, cinder block, etc. - textured surfaces)
5 - 8.5 x 11 Frames for Interior / Exterior Viewing (use them on glass, stainless steel, counters, etc.).  They look great from both sides when viewed through clear surface such as glass or acrylic. Perfect for store fronts!
3 - Duo Tip Ultra Fine Tip / Broad Tip Dry Erase Markers
3- Branded Cleaning Cloth
8.5 x 11 means that the clear image area is 8.5" x 11". 
They can hang horizontally or vertically. 
They have a .75" border, so the actual size is 11" x 12.5"
Why Use Fodeez® Frames?
Reusable 100s of Times
Waterproof and Weatherproof - use them outside! (Fodeez® Reusable Adhesive Frames for Walls only)
Easy to Use - Replace your message within minutes
Dry erase feature creates the most effective checklist application on the market.
Cost Effective - Need to change your sign? Simply print out a new piece of paper, no costly sign re-prints!
Tired of spending time and money to laminate employee postings and general office messages? Use Fodeez® Frames instead! 
Designed for Long-Lasting Use
View our quick video demos to see how to get the most out of your purchase.
To help maintain the lifetime of your frames:
Surface must be clean  

Do NOT cover any of the adhesive. 

Keep frames smoothed down.  Allowing any air to get behind the frame will cause it to eventually dry out.
We Guarantee You'll Love Fodeez® Frames
Your Fodeez® Frames come with a 30-Day unconditional money-back guarantee.  If you are unhappy with your new Fodeez® Frames for any reason, simply return them to Fodeo within 30 days, and we'll be happy to issue a refund for your product cost.  
Key Features
These self-stick frames work on all textured surfaces and can be re-used hundreds of times. 
(like a sticky note) under the frame border

Reusable adhesive is only under frame area - no adhesive under clear middle image area

Won't damage surface or photos

Little to no residue (easily wipes away with hand sanitizer)

Clear film in the middle protects photos and works as dry erase board

Quick and easy to use - change out documents/signs within seconds

100% Money Back Guarantee - no questions asked if returned within 30 days.  But we know you'll love them!


Lightweight Durability

Durable, Long-Lasting Use: Crafted with premium materials, Fodeez® Frames are designed to stand the test of time. Made of heavy duty but lightweight polypropylene, Fodeez® Frames are built to last, ensuring long-term use that allows you to change messages over and over.
Reusable 100s of Times

Innovative, Patented Process: Fodeez® Frames  are equipped with a revolutionary reusable adhesive backing that sticks to a variety of smooth surfaces including glass, stainless steel, and more. The lighter adhesive we apply to frames for smooth surfaces ensures no residue on glass, stainless steel and doors/cabinets.

For use on walls, take a look at Fodeez® Reusable Adhesive Frames for Textured Surfaces.
Dry Erase Feature

Write with a dry or wet erase marker on the clear area, then wipe clean to start over. This feature makes Fodeez® Reusable Adhesive Frames the most effective cost and time saver for any checklists, calendars and schedules that are updated on a regular basis.
Free Shipping

Free shipping on all orders $100 more.
Share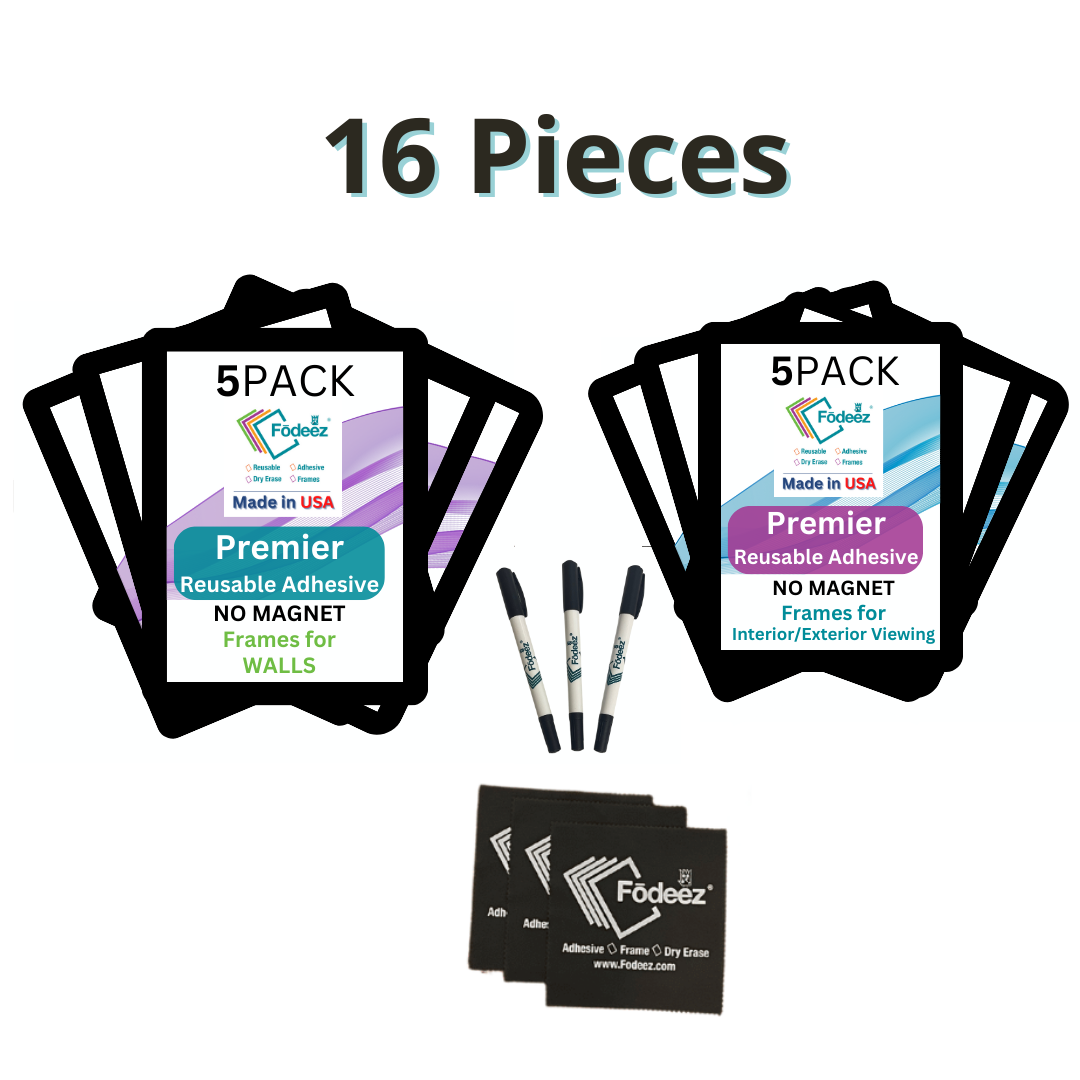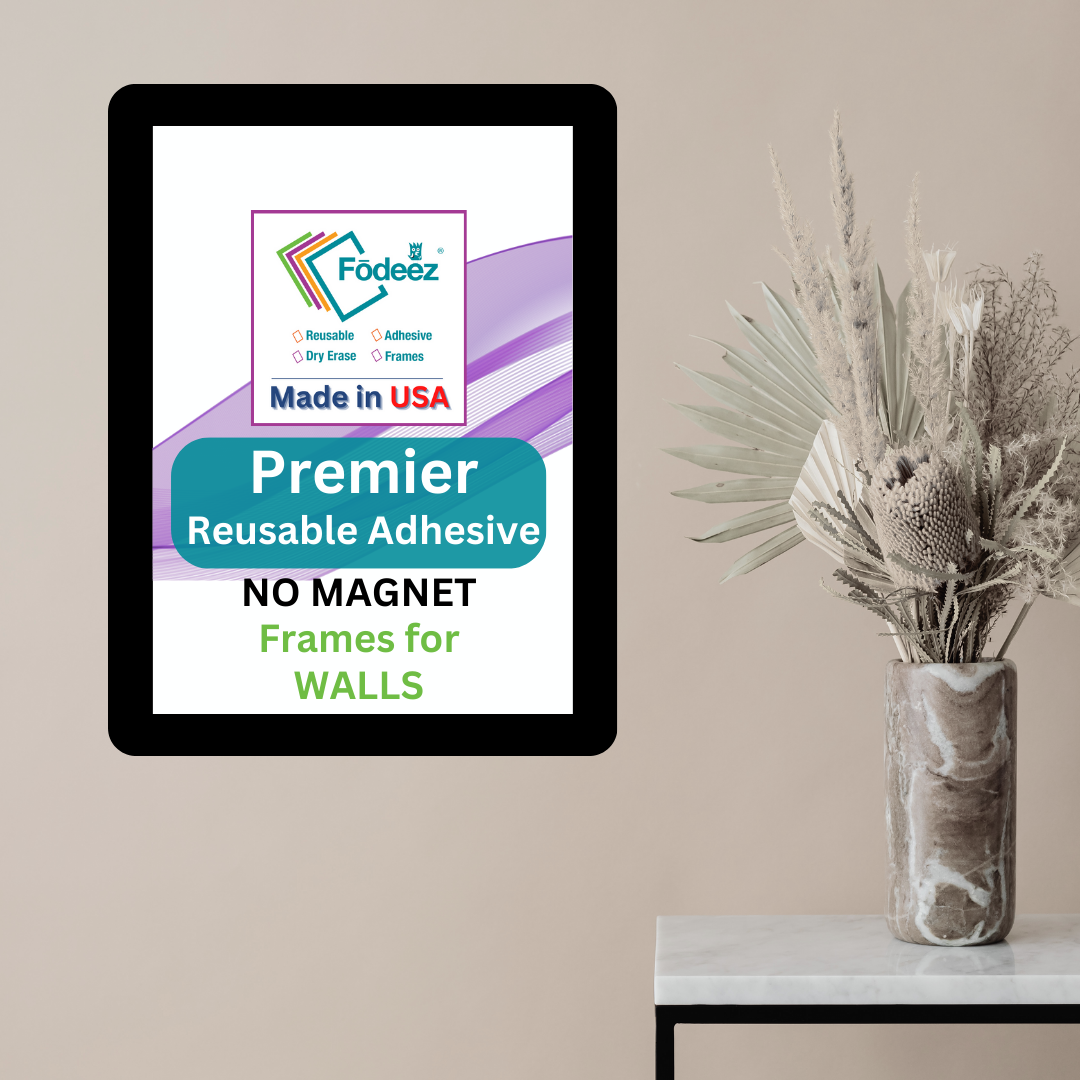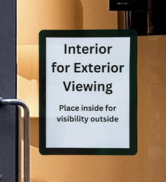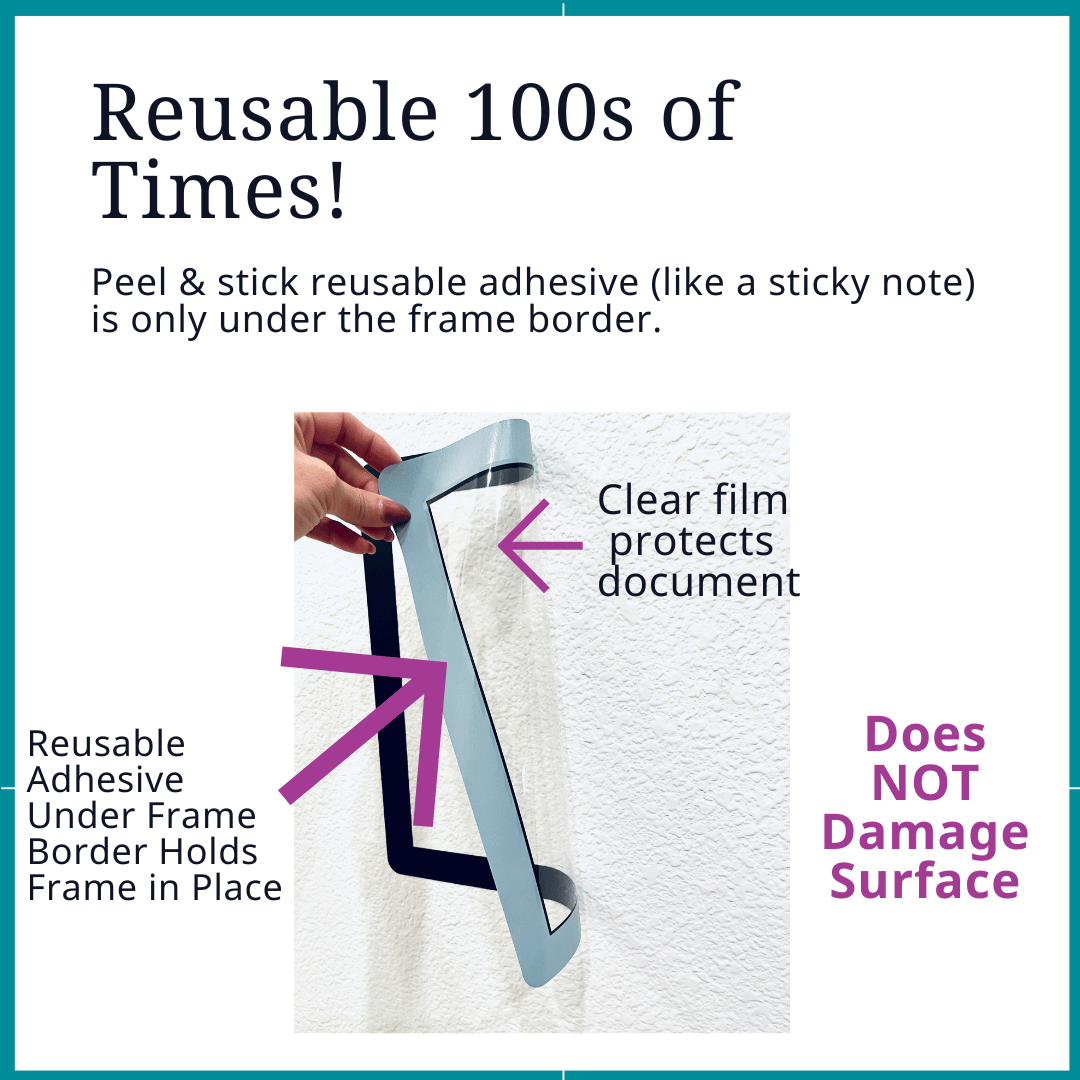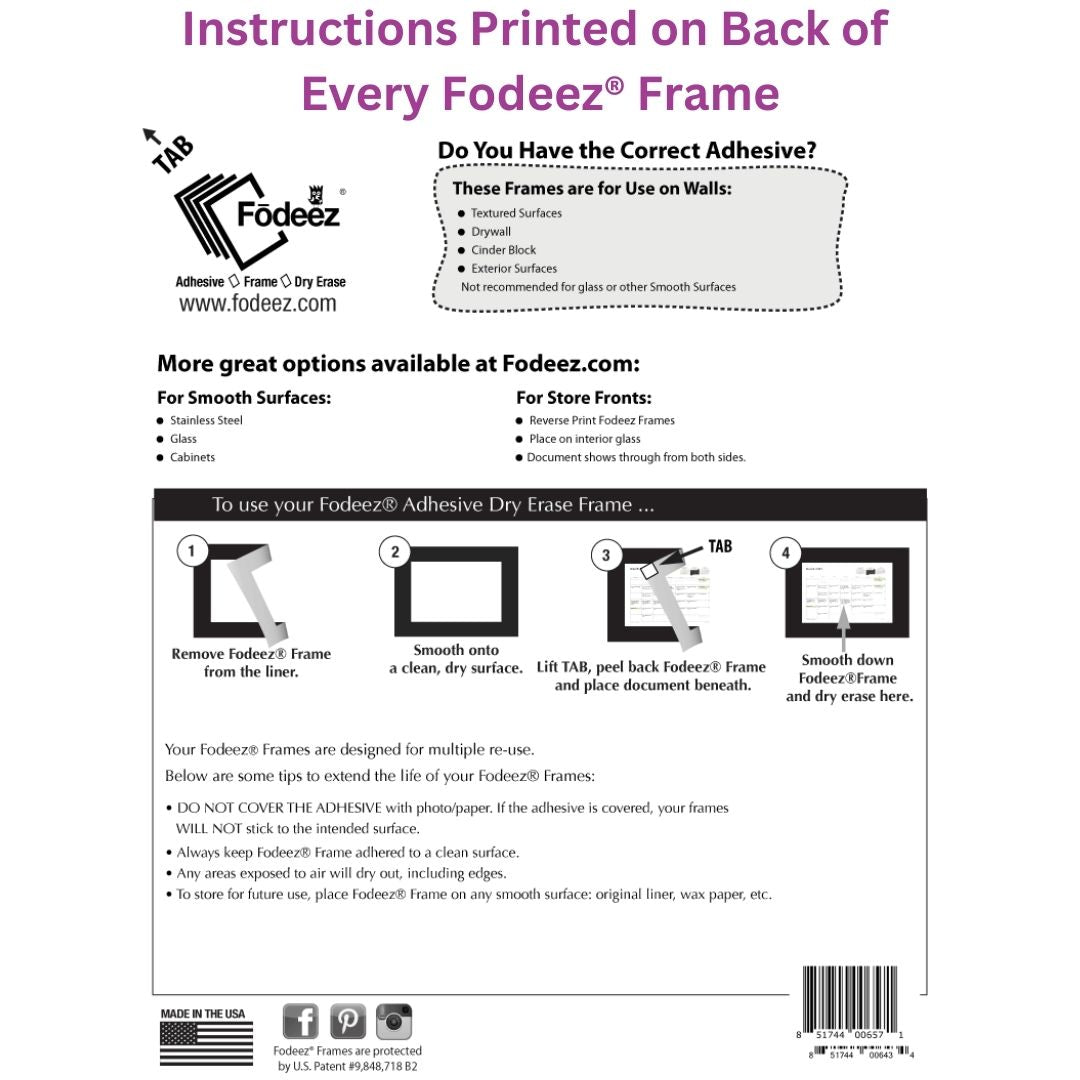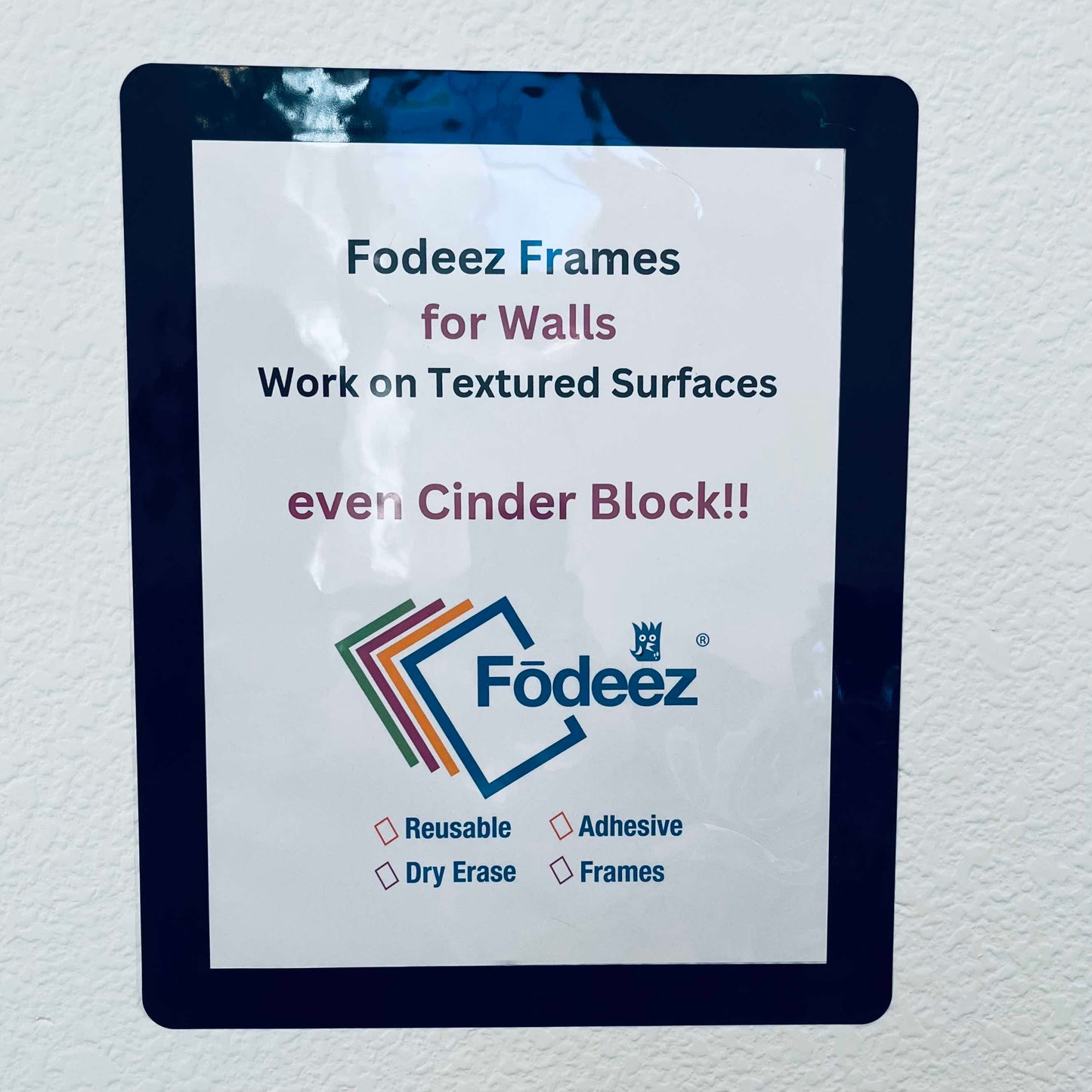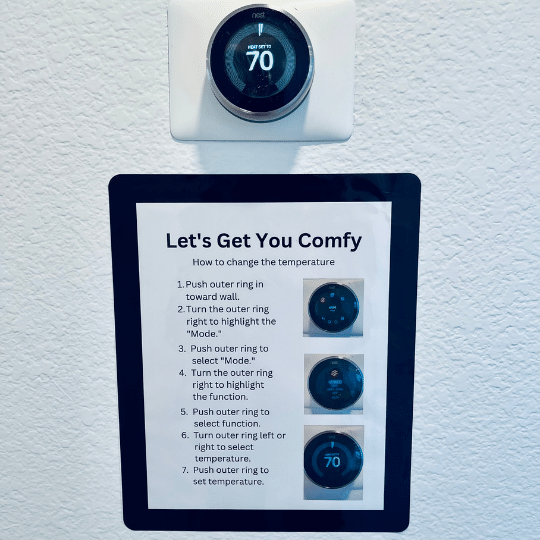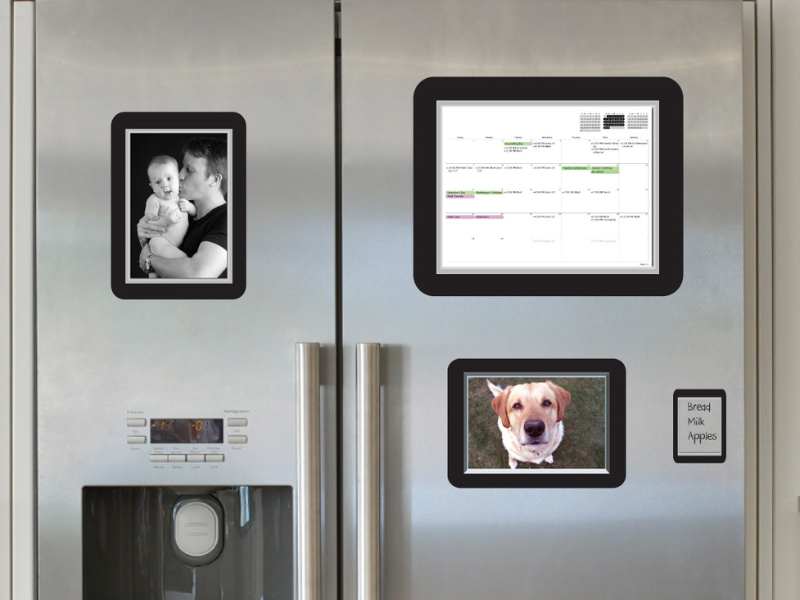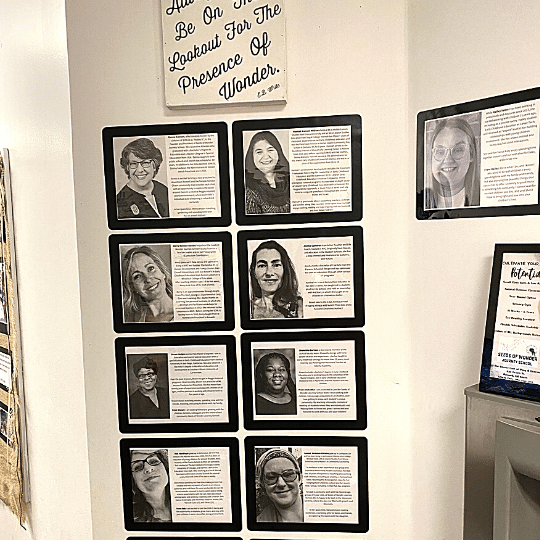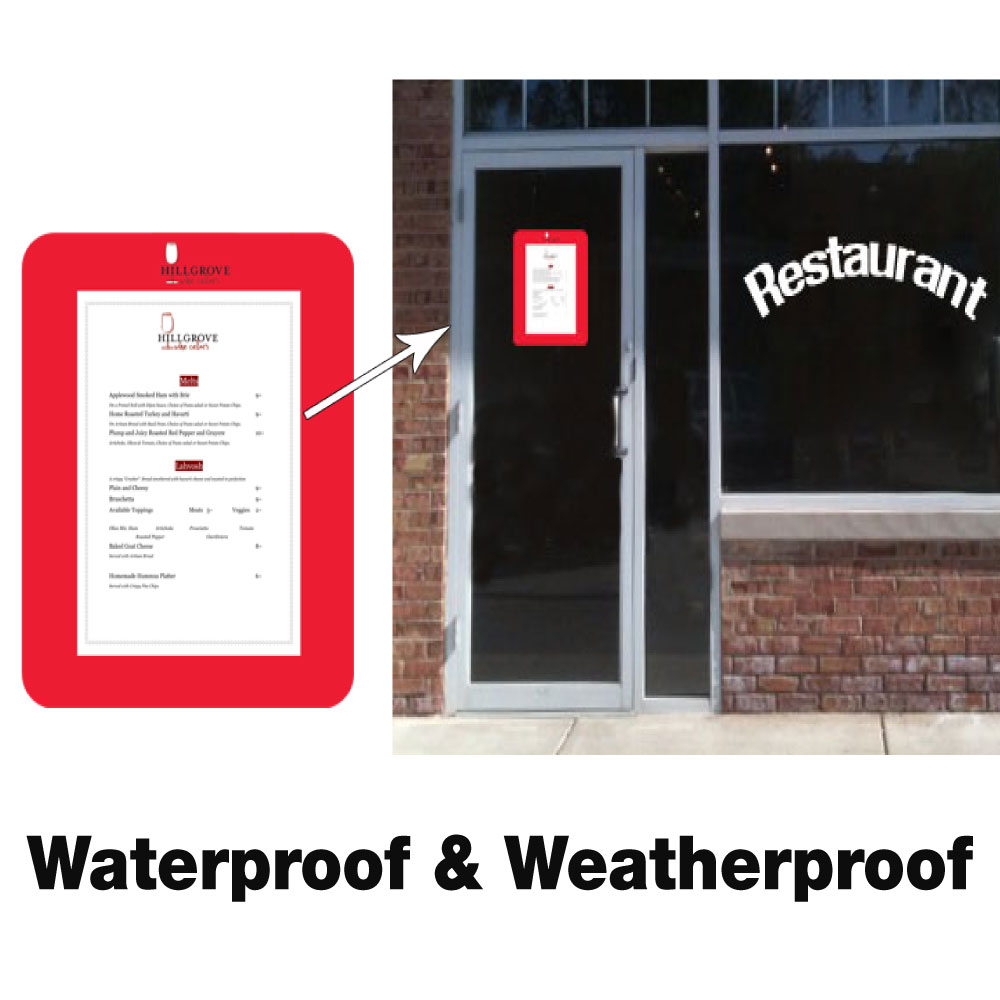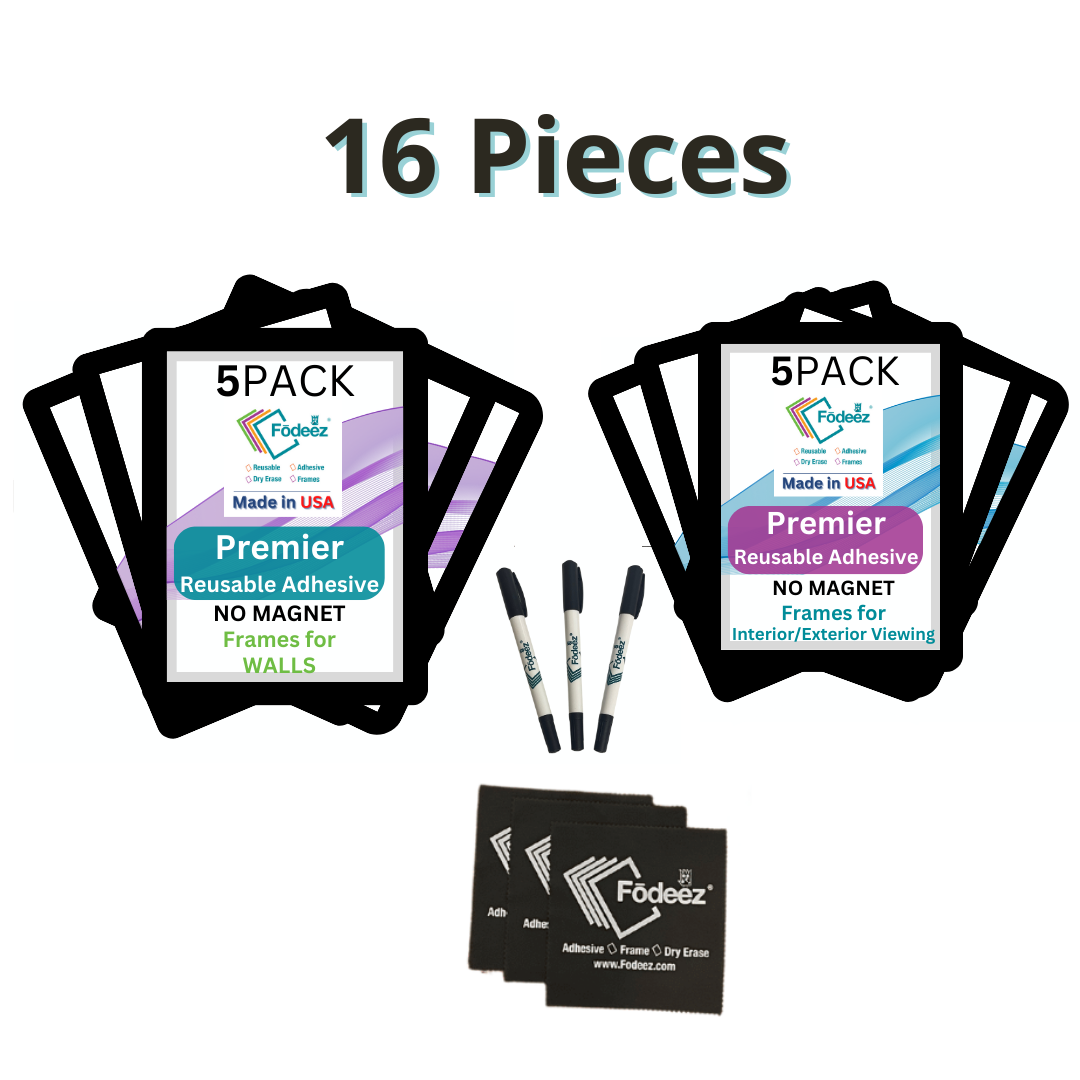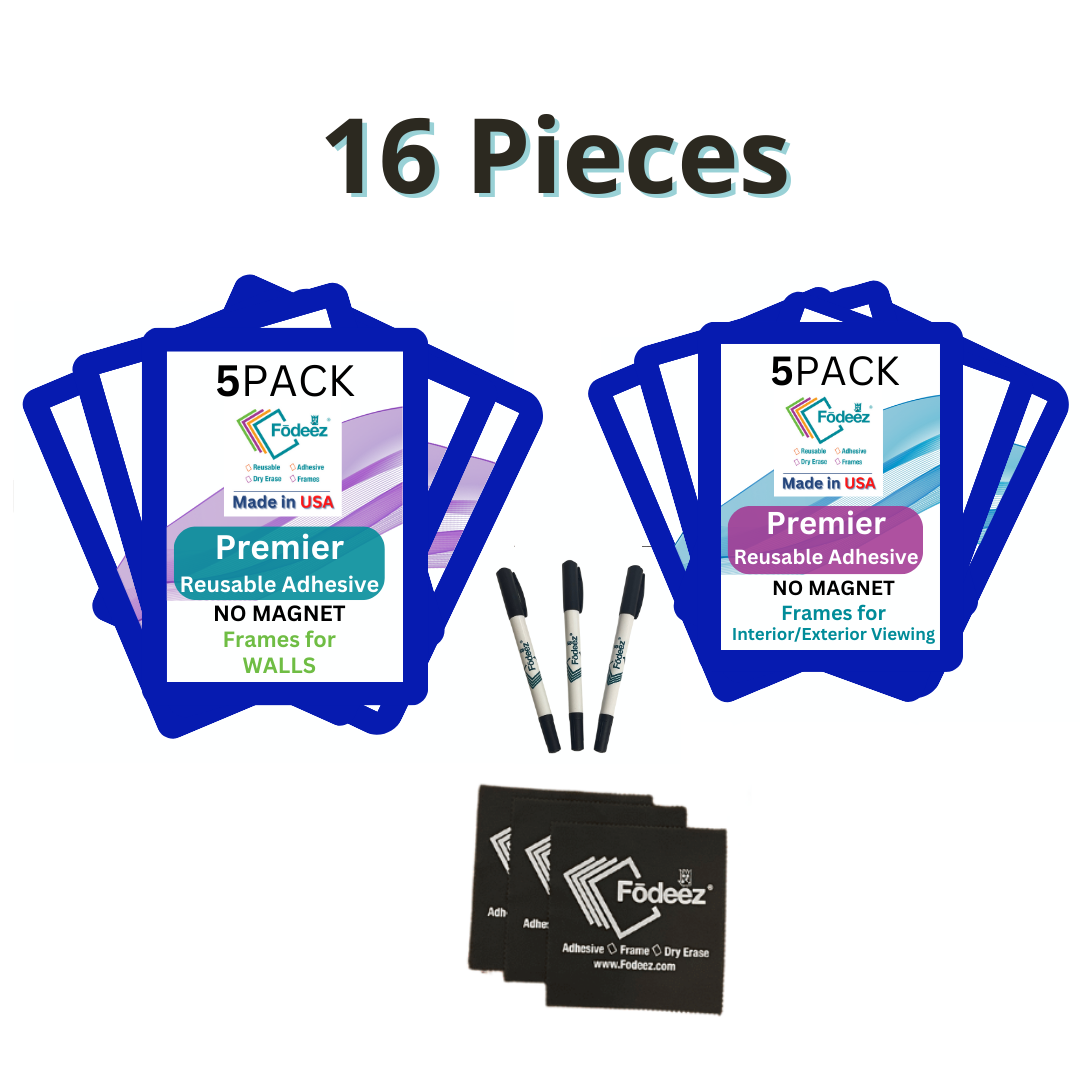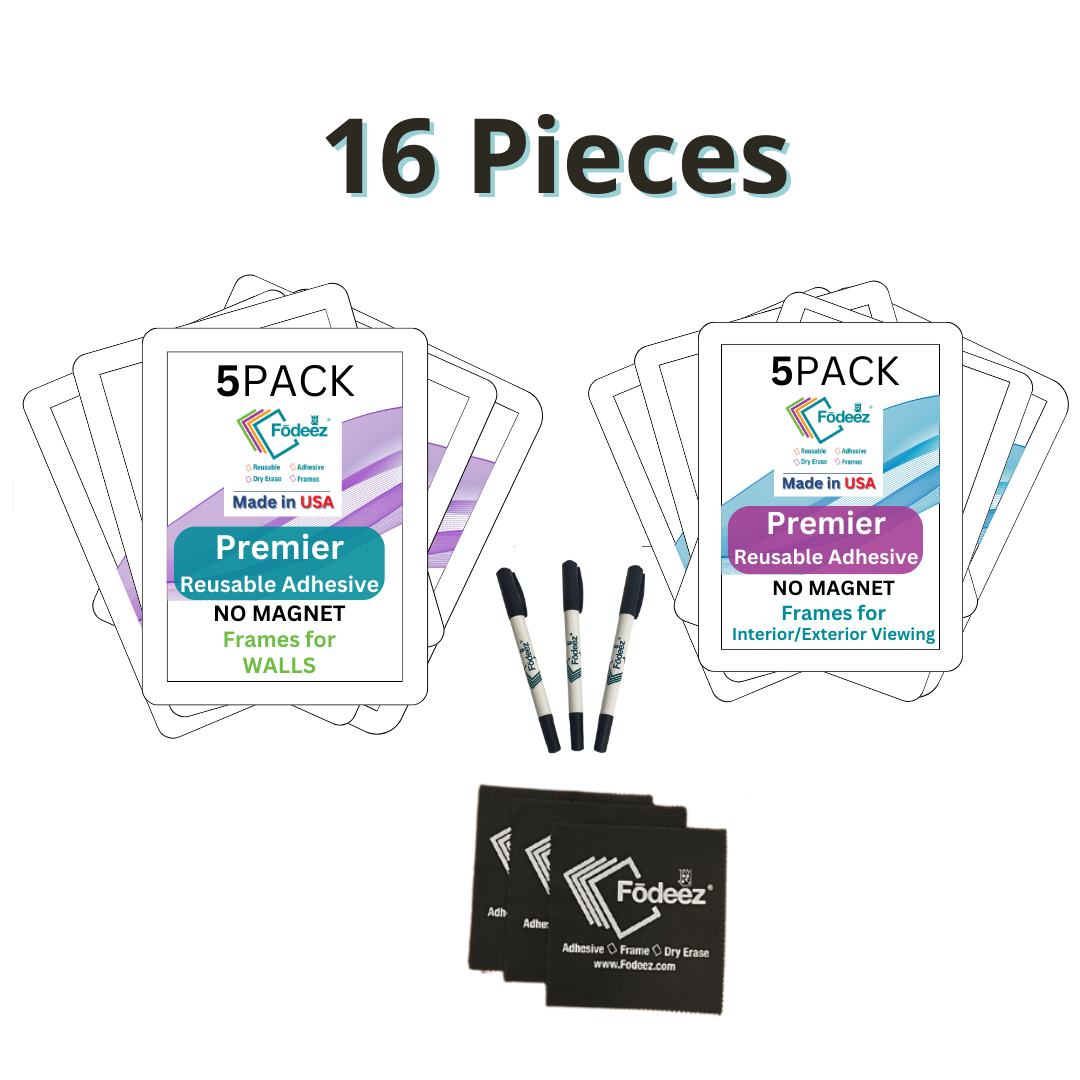 I Love It and I'm Sticking to It! Get it!😊
This is an absolutely great idea..Combining a post it and dry erase board all in one that works!!! I highly recommend this product. We use it in high travel areas at our church. Our congregation and visitors don't have to worry about missing the announcements with the Fodeez Frames.I'm so happy I saw the advertisement.
Really clears up the clutter
Used these frames to hang important papers in my daycare. Looks very neat and professional.
Love the frames
We used the Frsmes at our shop to organize and label items. Really worked well
12-Piece Basic Starter Pack
Love These!
These work great and all of my coworkers are asking where I got them.
One issue - I do not see any different between the store front and the smooth surface. They look and work exactly the same so far.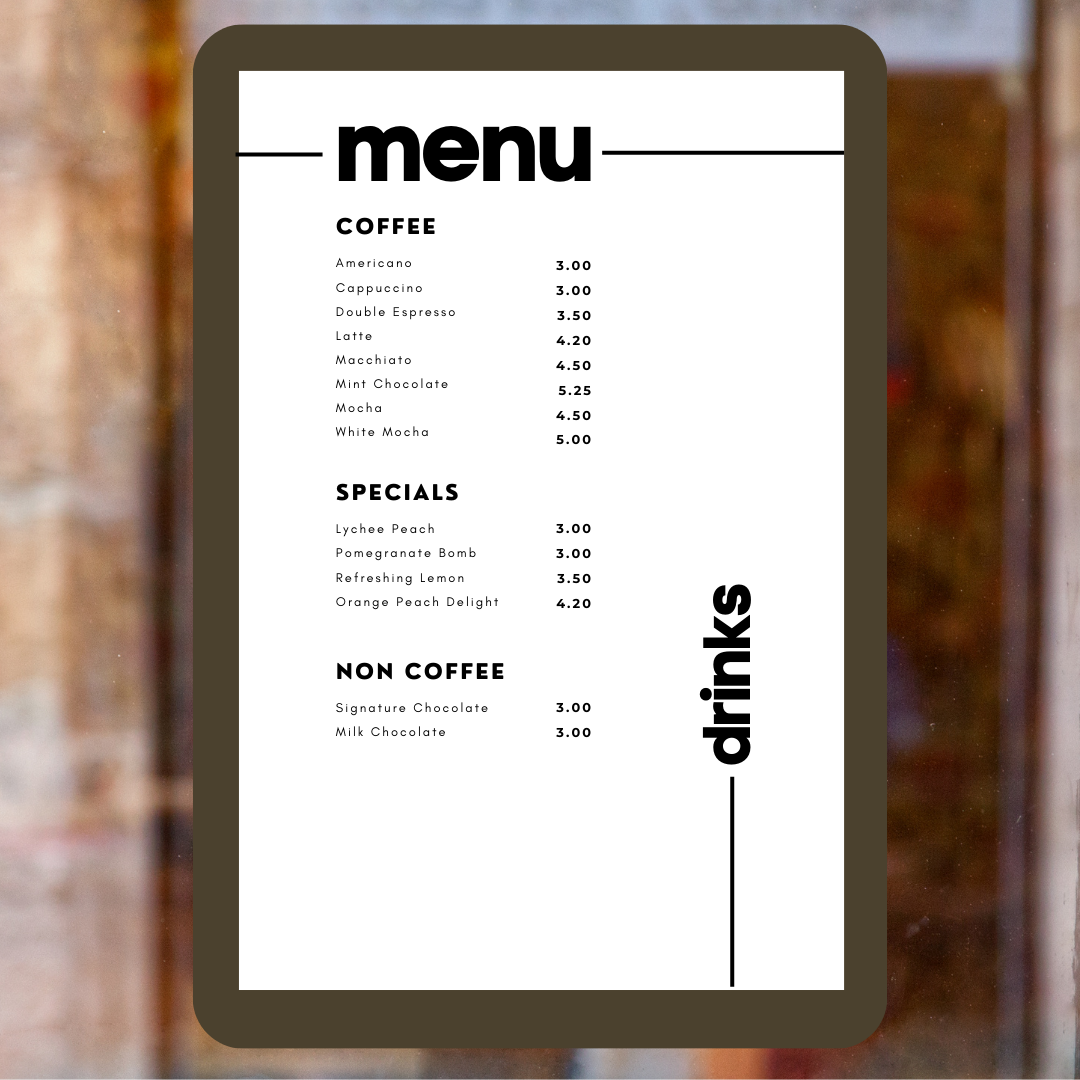 We Make You Look Good ... over and over and over.
We believe you deserve to look good, and your messages should also - for a very long time. What you have to say matters, whether to your customers, your students, your employees or any other audience you communicate with. Your message should come through loud and clear.
Free Shipping

Delivery is on us for all orders $100 or more.

We Want You to Be Happy

If you don't absolutely love your Fodeez® Reusable Adhesive Frames, please return them. You have 30 days to make your decision, but we're confident in what we sell.

Return Policy

Tips for Long-Lasting Use

Your Fodeez® Reusable Adhesive Frames should last a very long time, and we created a few helpful videos to ensure they do.

Get the Most from Your Purchase
Frequently Asked Questions
How many times can they be re-used?

As long as the adhesive is completely smoothed down after a document is changed out, they can be used 100s of times.
Will they cause damage?

The lightweight adhesive under the frame border is like a sticky note. The adhesive will not cause damage or leave residue.
Will they stick to walls?

These Fodeez® Reusable Adhesive Frames are designed with a lightweight adhesive to adhere to smooth surfaces only. They will not adhere to textured surfaces: walls, drywall, sheetrock, cinder block, etd.